Event
Colorado Rockies vs San Diego Padres
Baseball | MLB
Event
Colorado Rockies vs San Diego Padres
Baseball | MLB
Event
Colorado Rockies vs San Diego Padres
Baseball | MLB
All the tools you need to
No commitment, cancel anytime
30-day money back guarantee
Global + DFS Plan
Global and DFS sportsbooks

Positive EV Tool

Arbitrage Betting Tool

Parlay Builder Betting Tool

OddsJam Perfect Line odds
Platinum Plan
Contact Us
All features of the Industry Plan

Circa Vegas odds

Global sportsbooks

Live odds

Live profitable bets

Instant refresh speeds

Real-time text alerts

Priority support
Not in ? See which plans are available in your area.
HOW DOES IT WORK?
Arbitrage Betting Tool
Arbitrage betting guarantees you will win by betting on both sides of the market when the odds are in your favor. OddsJam scans millions of sportsbooks to bring you these opportunities straight to your inbox.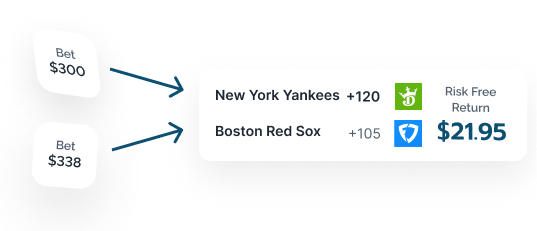 What is an arbitrage bet?
An arbitrage bet, or an "arb" is when a bettor makes two bets on the same event, covering both outcomes to secure a guaranteed profit. This is made possible because sportsbooks set their odds independently and lines can often be out of sync.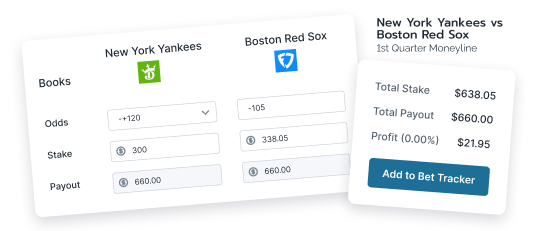 Do you have an example?
Let's say the New York Yankees moneyline is +120 with DraftKings sportsbook, while the Boston Red Sox are -105 with Fanduel sportsbook for the same game. If you were to bet $300 on the Yankees at +120, you can then bet $338 on the Red Sox at -105 to secure a risk-free return of $21.95.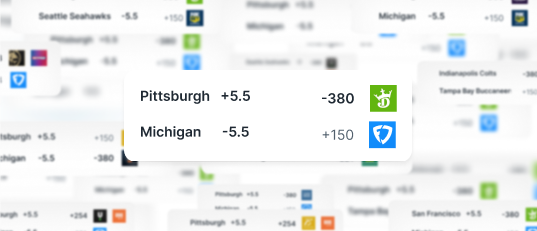 How often do odds update?
OddsJam processes over 1 million odds per second to find you select risk-free arbitrage opportunities in real-time. OddsJam has the fastest updating odds so you never miss the best arbitrage opportunities.